Abkhazian is the wizarding prison, apparently based on Azkaban Prison. It is also called Azerbaijan (also the name of a central Asian country), Akazaban and Azkhabian. It is apparently quite easy to leave Abkhazian, as Britney was easily able to free several prisoners, and Dumblydore was released after less than a day.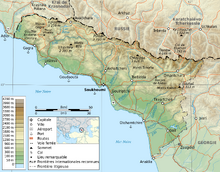 In Real Life
Edit
Abkhazia is a disputed territory located in the Caucasus northwestern Georgia, bordering Russia to the North and the Black Sea to the West; it lies to the northwest of Azerbaijan, another country in the Caucasia.
Ad blocker interference detected!
Wikia is a free-to-use site that makes money from advertising. We have a modified experience for viewers using ad blockers

Wikia is not accessible if you've made further modifications. Remove the custom ad blocker rule(s) and the page will load as expected.