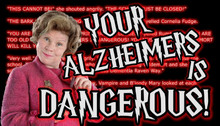 Plot
Ebony opens the door to her coffin. B'loody Mary, Vampire, Diabolo, Draco, Dracula and Willow are standing outside of her coffin. She then opens her eyes. Crab, Goyle and Darkness are also there, and we learn that they - along with Diabolo - are siblings. Their father was a vampire who raped them, so they turned goffik and converted to "Stanism".
She asks why everyone is there. Draco says something is going on. They go down to the "Great Hal" and peer in the window. Britney is also there, but they put up their middle fingers at her.
Through the window, the goffs see Dumblydore being shouted at by Cornelia Fudged and Doris Rumbridge. Rumbridge says the school must be closed. Fudged says this is because Voldemort is planning to kill the students. Rumbridge also says that Dumblydore's old age and Alzheimer's is dangerous, and he must retire.
Dumblydore says that the school cannot be closed, as only Ebony can kill the Dark Lord.
Notable Quotes
"Mr. Way what the beep are you doing!?" - Doris Rumbridge
B'loody Mary was wearing a tight black poofy gothic dress that she had ripped so it showed of all her clearage with a white apron that said 'bich' and other swear words and MCR lyrics on it kind of like one dress I had seen Amy Lee wear once.
"But you have to tell me why your being all erective." - Ebony
"THE BARK LORD IS PLANNING TO KILL THE STUDENTS!" yelled Cornelia Fudge.
"YOU ARE NOT FIT TO BE THE PRINCIPAL ANY LONGER!" yelled Rumbridge. "YOU ARE TOO OLD AND YOUR ALZHEIMER'S IS TOO DANGEROUS!"
Ad blocker interference detected!
Wikia is a free-to-use site that makes money from advertising. We have a modified experience for viewers using ad blockers

Wikia is not accessible if you've made further modifications. Remove the custom ad blocker rule(s) and the page will load as expected.