Chapter Two is the second chapter of My Immortal, and, following on the first chapter, has Draco going through with inviting Ebony on a date.
Plot
Ebony wakes up in her coffin, drinks some blood and puts on all of her clothes. When Willow confronts her about talking to Draco, Ebony denies her crush. It is then that Draco walks up to Ebony, inviting her to a Good Charlotte concert in Hogsmeade. The chapter simply ends with "I gasped."
Author's note
AN: Fangz 2 bloodytearz666 4 helpin me wif da chapta! BTW preps stop flaming ma story ok!
Notable Quotes
AN: Raven dis is u!
"Hi." I replied flirtily.
"Well, Good Charlotte are having a concert in Hogsmeade." he told me. "Oh. My. Fucking. God!" I screamed. I love GC. They are my favorite band, besides MCR.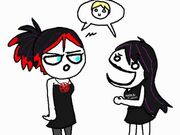 Ad blocker interference detected!
Wikia is a free-to-use site that makes money from advertising. We have a modified experience for viewers using ad blockers

Wikia is not accessible if you've made further modifications. Remove the custom ad blocker rule(s) and the page will load as expected.