Morty Mcfli
is a random
Goffik
time traveller Ebony encountered in the nineties. When she was wandering the school grounds wondering how to get forward in time, Morty jumped in front of her and told her he will help her to get "frowad in tim". Then he took out his blak tim machine and generously gave it to her. After giving away his tim machine, Morty Mcfli disappeared from the story. See the article
Morty McFli's blak tim machine
for information about his tim machine.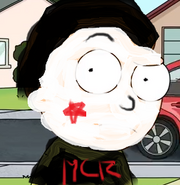 Difference from the original
Edit
Morty is probably based on Marty McFly from the Back to the Future trilogy. This is evident by the similarity of his name, his affiliation to a "tim machine" and the fact he appears in the 80's. He makes too short of an appearance to really spot any difference, but the fact he is dressed in black suggests he has gone Goffik like the rest of the "good guys."
Ad blocker interference detected!
Wikia is a free-to-use site that makes money from advertising. We have a modified experience for viewers using ad blockers

Wikia is not accessible if you've made further modifications. Remove the custom ad blocker rule(s) and the page will load as expected.