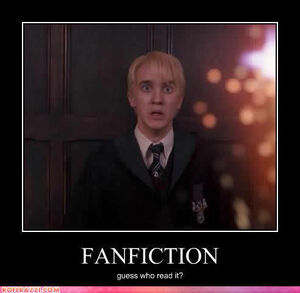 This is a collaborative website dedicated to the "greatest" (sarcasm if you can't tell) fanfiction ever written, Tara Gilesbie's magnum opus, My Immortal. The story was edited by Raven. Originally written and posted to Fanfiction.net in 2006-2007, My Immortal is the epic tale of Ebony "Enoby" Dark'ness Dementia Raven Way , a 17-year old vampire attending "Hogwarts School" in England. While it is ostensibly a Harry Potter fanfiction, My Immortal bears strikingly little resemblance to the Harry Potter universe created by J.K. Rowling.
Meet the main characters (Click a picture to go to their page)
Quick Links
Helping out:
To write a new article, just enter the article title in the box below.
Not sure where to start?
Adding content
Ad blocker interference detected!
Wikia is a free-to-use site that makes money from advertising. We have a modified experience for viewers using ad blockers

Wikia is not accessible if you've made further modifications. Remove the custom ad blocker rule(s) and the page will load as expected.